A Central Inbox is crutial for GTD fanatics like myself. Any new task should end up in this Central inbox and from there it can be directed to the correct Space, project and list.
Merged in a post:
Automove Overdue Tasks to Today in Time View
In Outlook, when viewing tasks below the weekly calendar, overdue tasks are automatically displayed under whatever the current day's date is. I'd like to see this as an option in Clickup's Time View also. I primarily use Time View and just realized that I was starting to miss overdue tasks because they were still displayed on whatever the actual due date was. In the 4-day Time View, it starts with today's date plus the next 3 days so anything prior to today was not displayed. However, I imagine this could be a problem with any of the Time View options - once a month changes, week changes, etc...
Merged in a post:
Today View
Would be great if there was a dedicated page/view specifically for "Today" that incorporates tasks and projects across all spaces.
Merged in a post:
Plan Your Day - Task Runthrough
I've recently tested personal productivity apps like Any.do and TickTick, and they have one great feature that I think could make ClickUp even better.
In Any.do, you can initiate a Moment that takes you through all of your tasks and asks you to schedule them, mark them as done, or delete them.
I think it would be great if ClickUp had this kind of workflow as well. Some tasks are collecting dust in forgotten boards and it would be great to find them and update them, or archive them.
It would also make it a little bit easier to get team members on board with ClickUp, I think.
Merged in a post:
[TIME of the day FILTER/Clickapp] Morning, Afternoon, Evening
Hi!
It would be nice to have a sort of customizable filter or Clickapp where the user can set a custom timelapse for the morning, afternoon and evening. All showing in a sort of Today view. This would let us divide the day into three different parts: morning, afternoon and evening. and partition the tasks depending on when we want to complete them.
This implementation would benefit people that feel overwhelmed looking at their daily todo list: dividing the daily todo list into smaller parts makes it less overwhelming. The feeling of overwhelm is important to manage as it can keep us from getting started. Breaking the daily todo list into three parts also creates mini-deadlines for the tasks which can feel motivating for some people and help procrastinators notice early on when they are pushing things off.
Assigning tasks to specific parts of the day also force people to think about the energy and focus levels throughout the day.
Merged in a post:
Daily task list
Aside from having due dates and start dates, it would be great to have a kanban view of what is going to be done the day of or your week sourcing from any of the workspaces, projects, or lists that are available.
Merged in a post:
Quick Task
It would be great if it was possible to create a task without having to fill in all the necessary fields from the start. Sometimes I need to just jot something down quickly and then turn it into a task and link it to a project.
Merged in a post:
Global Me Calendar
It would be nice if I can see a global calendar of all my tasks in all teams/spaces/projects. It would be like a daily/weekly planning for answer "Which tasks do I have to be done?". Global.
Today I need to open Team by Team to see.
Merged in a post:
[2018 - Pending Inbox] Personal Dashboard
A central dashboard that users can customize to track projects or tasks, see an overview of anything they want, pin tasks, etc.
Merged in a post:
All tasks assigned to you from various teams
When you are part of different teams, you have to consistently switch teams to view your tasks. It would be nice to have a private centralized view to see all your tasks from all the teams you are part of.
marked this post as
in progress
Merged in a post:
Add Today Feature to "Me View"
(Submitted via Email) Add a feature that shows both Due Today and Started Today. Similar to Asana.
Merged in a post:
My Tasks (similar to Asana)
I think it would be very valuable to have a dedicated "My Tasks" view that can be filtered into "Today", "Upcoming", and "Later" or something similar. This is the bread and butter feature of Asana that my team and I rely on daily. It allows users to assign tasks to themselves, set a status (later, or upcoming), and forget. ONce the task is within a week of the due date, it automatically moves from later to upcoming, and on the due date (or start date as applicable), it moves to today.
Before posting this, I looked around the forum and couldn't find a parallel post. Apologies if this is a duplicate, and look forward to your feedback.
Merged in a post:
See what each team member is working on
It would be great to see what each team member is working on. Right now, it's only possible to see what someone worked on today, yesterday, etc. However, what about now? at this moment. In which task the time is being tracked?
Merged in a post:
Due date independent "work on date" for tasks
I currently swiched from Asana and one feature I am really missing is the ability to mark a task as "today", "upcomming" or "later".
In Asana you have a list of your tasks. Each task has a due date but that is not necessarily the date I want to work on the task.
Tasks that have a due date far in the future can be set as "later". These tasks are hidden by default but as they approach their due date, they move into the "upcomming" and then the "today" category. New tasks appear in a "new" category and have to be assigned a "today", "upcomming" or "later" status manually.
Every morning I could select the tasks I want to work on and move them to the "today" category.
This gives you this very tidy look at your tasks where all you see by default is today's tasks and the tasks that are due in the next 7 days.
Since the tasks change categories as their due date approaches the view keeps itself up-to-date.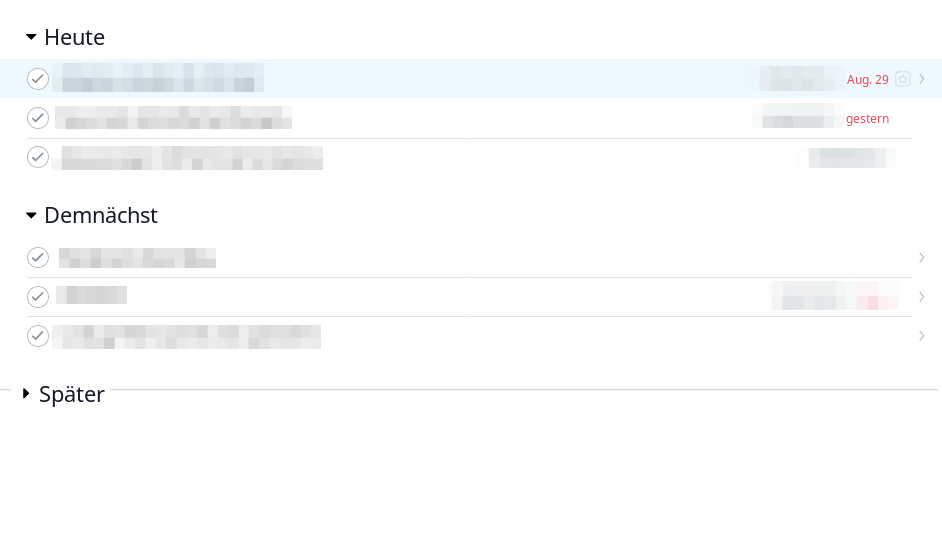 Merged in a post:
Designate user roles in the left sidebar
S
I would like to input and show roles/designations of users in the team sidebar. For example,
Adnan (Project Manager)
Merged in a post:
Personal History - Able to view what I have create, change status and etc
I understand that there's a task history for each task we have created. However, I can't track back what I have changed previously. This is useful that we can track back what we have done these days, especially when too many projects are going on at the same time.
Merged in a post:
See all "assigned to me" from all of the teams
I'm a member in multiple teams, and I want to see all the tasks assigned to me on one surface regardless of team.
Right now I have to switch between teams to see what tasks are going on.
Merged in a post:
Inbox for GTD method
Implement a centralized, non-team-specific inbox that one could use to dump tasks awaiting processing into the proper Team, Space, Project and List.
Merged in a post:
What did I do yesterday?
For notifications there are two streams of information, what other people are doing and what I'm doing.
A really important question you have to answer, especially if you work in Scrum is 'what did I do yesterday'? The question can often take a lot of cognitive load to answer, especially if you're really busy.
Being able to see every thing I 'worked on' yesterday would help to activate your memories to recall for your standup or other daily meetings.
Merged in a post:
My Week View
I would love to see a my week view with today past upcoming and done tasks. And the ability to switch from previous week to next week.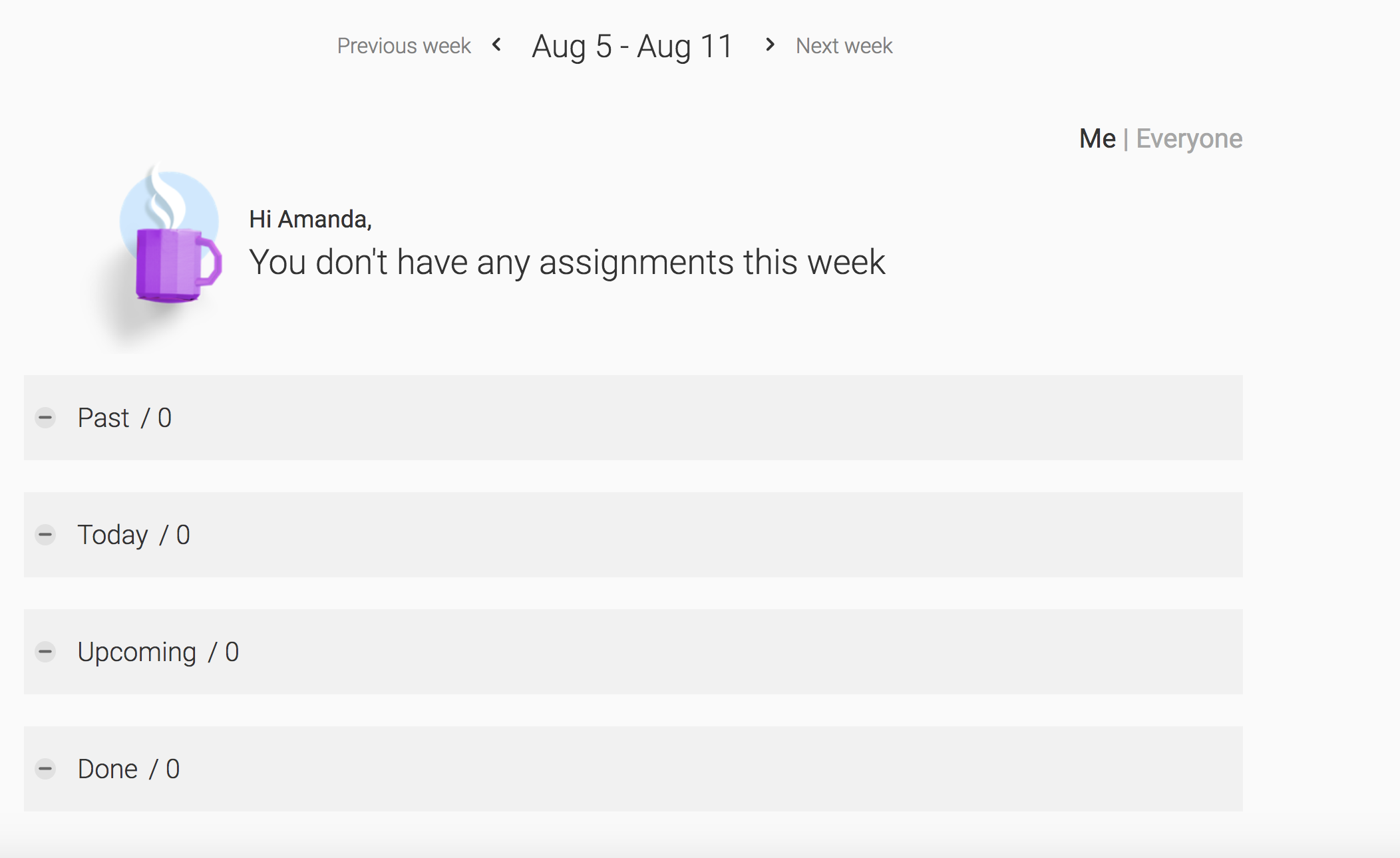 Merged in a post:
More compact list view in web app
Hello, the iOS app has a compact Time view which I would like to see replicated in the web app. This could be done by removing the grouping by list... or by making it more compact (and/or using a smaller font). This would make it easier to have an overview of the tasks. KR, Thomas
Merged in a post:
Day view with manual sort across all projects in a Space
I would love to be able to see everything on my plate for the day across all projects and manually sort it.
Merged in a post:
Personal tasks without project
It would be lovely to jot down tasks that we want to accomplish without needing to attach them to specific projects/lists.
At the moment there is a 'dashboard' in the 'planned' phase, I'm assuming it would go there, so maybe you'll need to merge this request with that one. But just in case it isn't, or it's considered different, I wanted to put it out there.
These tasks would need to be, by default, assigned to yourself and private. It would be an extra bonus if you could assign the task to someone else and have it still not attached to a project/list but I guess I'm being just super needy at that point.
If you didn't want to wait until a full-blown dashboard is created, you could have a "Personal Space" show up at the Space level? I feel like that may be a nice quick fix? And maybe just have it as a ClickApp so as to not make it messy for those who don't want it? That's what I've done to solve this issue, but I'm sure many would love to click a button and viola, you have a private little list that can be seen alongside the rest of your tasks.
Merged in a post:
"My day" view
One of the things that I feel is missing on Clickup, is a view where I can organize my day according to the due dates, and/or my own choices. We can generally focus on 5 main daily tasks, so having a "Today", and "upcoming" parts would make sense. (this is a bit "asana" inspired, but I like this feeling of having a place where I can clearly on what I will work for today)
Merged in a post:
Quick Capture Inbox
You need a way to capture items (inbox for GTD) as a hold before deciding if its a task, concept, project, schedule, etc.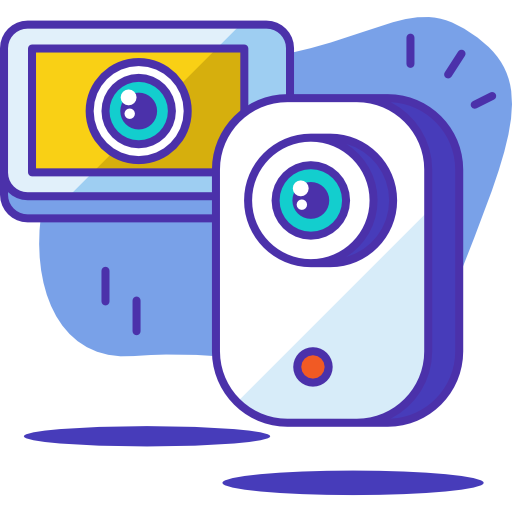 Merged in a post:
Ability to Postpone tasks to later date.
It would be nice if the clickup has the ability to postpone tasks to later date.
Merged in a post:
View All Tasks Assigned to Self
While there's a function to view all tasks (in all Spaces and Project) in Box and List view, it requires too many clicks. We have to go to All Spaces > All Projects > Filter. It would be better to have a homepage where all tasks assigned to you are viewable automatically. I find that Calendar view simply isn't enough.
Something similar to Asana's My Tasks would be great.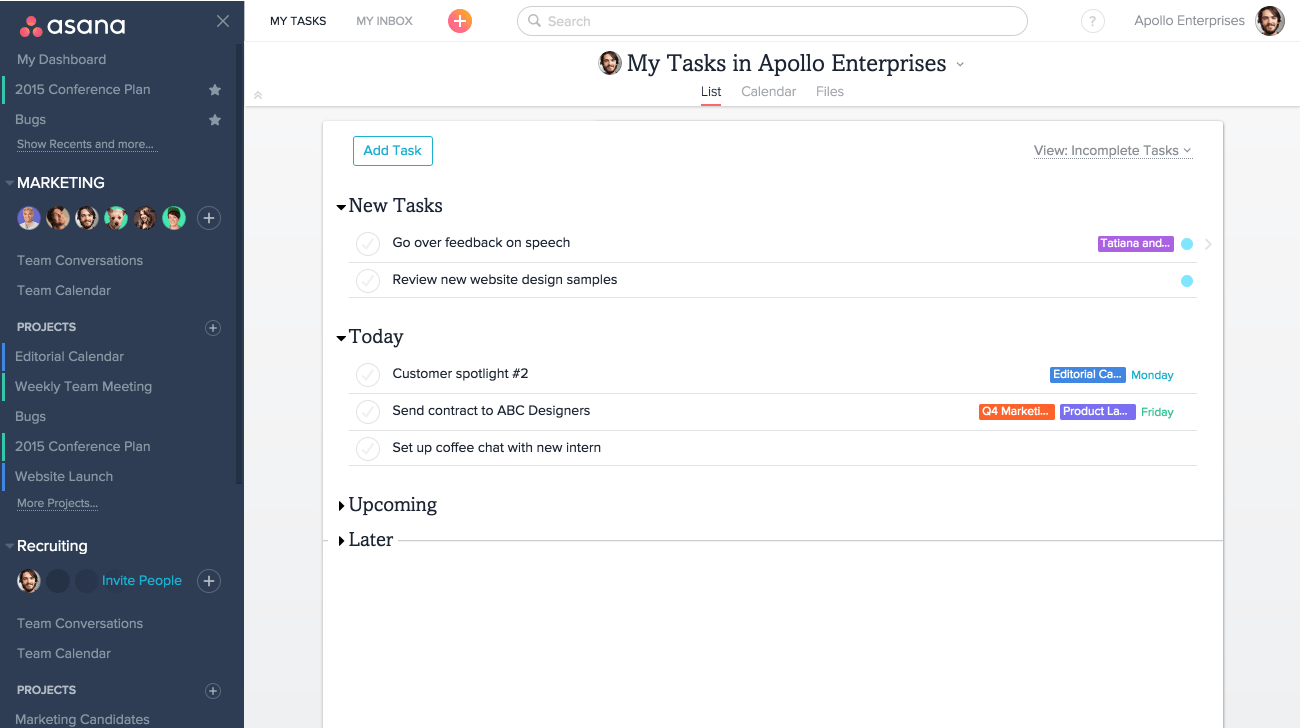 Merged in a post:
'To do' checklist
Last minute 'checklist' for recording quick turnaround tasks that don't require in depth attributes.
Merged in a post:
Easy overview of all tasks assigned to you
It can be a bit tricky to get an overview of all tasks, sub-tasks, assigned comments and checklist items assigned to you. It would be great if you could make that easier. In that process, it would be great if you could include subtasks and checklist items on tasks where you are assigned. Should help you get an overview of your workload.
Merged in a post:
Clearer "My Tasks" section
Asana does this very well, in that automatically adds in all of your tasks due that day across all projects, but you can choose to move them to "upcoming" or "Later" sections if you don't want to deal with them at that moment, and you can also re-order them as makes sense to you. Something along those lines would be more useful than the Box view, which I still don't really understand to be honest!
Merged in a post:
"Homepage" Dashboard
Please mind these two concepts:
1. HOMEPAGE with:
- whiteboard to note new ideas
- board with information for whole team
- list of tasks with high priority
- list of tasks with "in progress" status
I guess the best option is to customize lists on it.
BOX function is not enough at all.
marked this post as
planned