Templates for Sprint Lists
Merged in a post:
Great to have Test cases and Retrospective templates, but don't deploy live just yet.
I am very happy that you want to add the Agile Scrum Management template which includes Retrospectives, QA tests and a folder for Sprints. QA alone it will save us from the other app we use and will make much easier to add into our stories.
However, I just noticed in the new template is about the same thing as you have before but with specific lists and pretty colors. It does not resolve the need. It still needs a lot of work. We find it unusable, or at least it is not intuitive enough as it is the rest of your app to figure out what we need from it.
The Sprint folder, still can't have a Sprint set inside, Meaning, you need to keep what you had before (sprint folder of sprints), but able to put it all in a folder. for instance. the sprint folder would have a set of Sprint for each of this year's quarters i.e: Sprint Folder> Q1 (Sprint 1, Sprint 2, Sprint 3, Sprint 4) also be able to add a list in the sprint, by default, called Sprint Goals."
Retrospective lists need to be divided into Sprints not tagged, it requires too much filtering to see what we need, organized by sprint and not by "feeling" each sprint retrospective item needs to go, like in statuses through To Do (what we didn't like), in progress (needs to work on), done (what worked well) also, by default, they all displayed Sprint disorganized.
Each test case inside basic template, needs to have fields like date created, last modified, References, Requirements, time spent, Steps (which can be given as a sentence, a list of steps or a table), and Expected results also entered as a number list, sentence or table.
All tests' cases need to be "easily understood" to be in a master set (Maybe the folder QA would have a list called "Test Cases" where tests are organized by different test areas and maybe sub-areas (sure they can be tasks and Subtasks) of what we are testing but don't display the same.
NOTE: like you did in Retrospectives, having the test areas as tags it is not a solution!!!
Then we need a easy way to set the "Test Runs" this may be a list inside the Sprints or inside the QA folder, but easily point the sprints to it (each sprint needs to be able to be associated to a test run), this list is created by choose and pick tests from the master then select who would run the tests (same tests needs to be run over and over more than once at different points, so we need to be able to distinguish them easily)
Last, we need to specify what kind of tests they are, Functional, Smoke, UX, Automated, etc and run reports.
PLEASE NOTE:
I am a software engineer working all day with apps like yours. yours is definitely one of the most impressive one but don't jump while you are ahead. Do not solve all app functionalities with tasks and tags. Perhaps in the back end it is how it is managed, but not for us the end user.
To inspire you, I highly recommend you see this demo
https://tuskr.app/kb/latest/gs
(like ClickUp for PM, I found Tuskr to be the simplest (not as full feature as its competitors but it does the basic job needed) test management tool available! honestly, I would pay a bit more if you had a QA functionality working well.
We use tags, as explained in your training videos, to highlight a specific and unusual quality of a task, i.e, urgent, to review, wait for next sprint, .. etc.
And we group tasks by lists or within the lists with custom fields like "Type", and system fields like "sprint points", "Last date updated, or the other "only option is by "Status".
The solution is creating a list where you can select some tasks not to be task at all but just Headers and sub headers in the list of tasks (maybe in the back end it can be treated like statuses, but unlike statuses, they can roll down and up to expand its contents when viewing within the list). thus, saving us painful filtering, hiding, and other frustrating workaround means.
Doing it right and implementing this list functionality in your app will open new huge possibilities for different parts of the Workspace application and make you very competitive. Some I mentioned in past comments like in lists used for:
Test Cases, Test case Runs, Retrospectives, Epics and Stories, Goals and KPIs, meetings and even converting a list into a whiteboard and vice versa. the new tasks that don't work as tasks would be the titles of boxes; subtasks boxes within boxes (perhaps have a limit of 3 layers - title, subtitle, tasks and subtasks)
Merged in a post:
Create Sprints folder template
Currently, you can't create a template out of a Sprints folder.
It would be awesome to be able to do this, as one can prepare a well-structured process, and replicate it across different teams and projects, with no need to recreate the lists, views, docs, etc.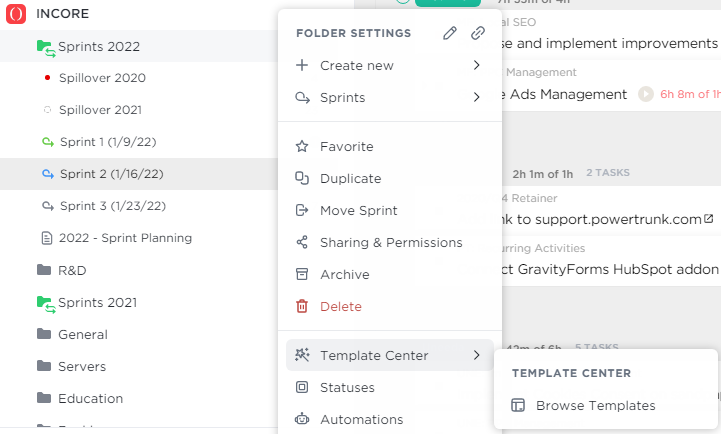 marked this post as
open