Merge Fields (a la Mail Merge) for Auto-Populating Custom Fields Data
under review
Wouldn't it be amazing if.... we could use merge fields to auto-populate data from custom fields? For example, auto-populating data in task descriptions or, in particular, documents….?
Let's say that you have a workflow that has you referencing custom field data for external parties every. single. time. you run said workflow. For example, you might track key metrics in custom fields that you need to summarize for your client, or for a group of people outside of your team, or that you need to update your client or group on with regularity. And every time you do that, you have to transpose said data manually.
If it's just a single client that you are sharing data with, creating a guest account for that person makes sense. However, to use my own case as an example, I am regularly sharing data from custom fields with a different group of people for every project, so it's just not feasible to create guest accounts for every single person who needs access to this data.
So what if, instead of manually transposing data every time, you could....
Create a template document in a Doc view;
Use merge fields to reference custom fields in your template document;
Link the specific task, whose custom field data you want populated, in said document; and
Regain HOURS of lost productivity every year from the time no longer lost to manual data transfer.
The only thing I've seen like this from a competitor is Airtable's Page Designer block, which uses merge fields to reference record data (which would be the equivalent of a ClickUp task). I wouldn't say that ClickUp should have a full blown page designer, but even just the ability to use merge fields with documents in their current state would be AMAZING. And in fact, I actually prefer ClickUp's ability to create a public link to a document, where the custom field data would update automatically, to Airtable's Page Designer where you have to export a single-point-in-time document as a PDF.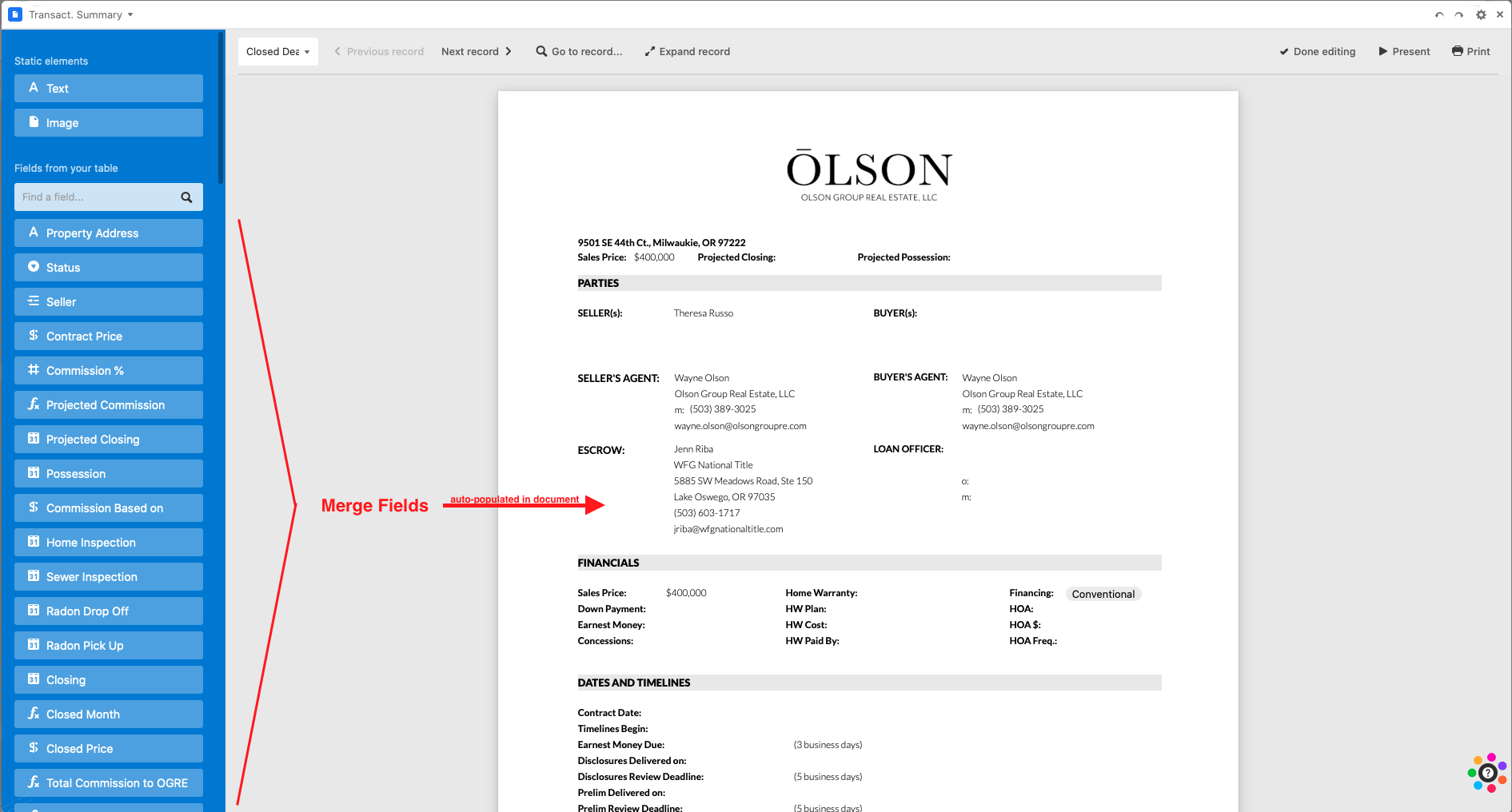 Merged in a post:
Custom Field Values in Task Descriptions
It would be great to be able to dynamically pull custom field values into a task description.
Imagine having a template for a sales script and a custom field for client name, client website etc and all of those values to pull into the script.
It'd just be awesome!
Merged in a post:
Enable using Symbols, superscript, subscript and dynamic code on Documents.
Can there be a toolbar with options to enter varial greek and scientific symbols?
Can there also be a formula field we can enter on the document?
Or dynamically run code like Jupytr notebooks.
Additionally, also enable superscript and subscript in the document.
Merged in a post:
Ability to pull custom fields into a document
Scenario: I created a couple of custom field (budget hours and $) at the 'project' level in ClickUp (I have yet to figure out where these fields actually are, however). When I am creating a status report (in ClickUp, a document), I would like the ability to bring in the custom fields into the document, so that I can have qualitative and quantitative data in the same report that would ultimately be sent out to our clients. The data in the custom field (for us, anyway), would be populated from another system via integration.
Business case: to create a single status report and a single place where this information is visible, particularly on the side where the client is receiving information.
Merged in a post:
Forms should be able to dynamically name the created task base on form inputs
I would like to have the tasks that are created from the submission of a form to be named base on the inputs of the form. I will often name a task based on a client's name. For example, I would name a task as follows: Doe, John - Task Description. I would then ask for the First Name and Last Name in the form along with whatever info I need. I would like to see that ClickUp automatically creates the task from the form submission and name it with "Doe, John - ...." assuming that the user enters John Doe for first and last name respectively.
marked this post as
under review