Custom Fields v2
in progress
Merged in a post:
Permissions at the Column Level
Is there any way to add granular permissions within a list that might hide things like time tracking/accounting from all users outside of HR?
Merged in a post:
Set task fields required
I would like to mark Time Estimate or other fields as required.
Merged in a post:
Show who last updated a task.
It would be awesome to quickly see by whom the task was last updates by. This could be done when hovering over the last updated field in the task.
Merged in a post:
Custom Field Calculations
Is calculated custom fields still on the roadmap? Will this include the ability to do simple calculations (e.g. Divide 1 field by another and display result in custom field) similar to what ZenKit offers?
marked this post as
in progress
Merged in a post:
Project / List Data with permissions
A project (or list, depending on how it is used) often requires members of the team to have access to data such as the client's phone number, email addresses, passwords, urls, etc.
These pieces of information often need to be referred to to throughout a project, so having convenient access to them without leaving the platform. However, not everyone needs to see everything. So being able to assign which member can see what info.
I would make simple with an "add project data" with 4 functions:
1) Field Name
2) Field Data
3) Permissions
4) Add another
examples would be:
Facebook Page: https://www.facebook.com/clickupprojectmanagement/
(viewable = everyone)
Facebook Password: P@ssw0rd
(viewable = just me)
Cell Phone: (555) 555-555
(viewable = Sam, Pat, me)
Merged in a post:
Required custom fields
I would like to set as required a custom field in a specific project, space.
Merged in a post:
Add AUD option for currency custom field
S
I am creating a new custom field - one for currency. The options I can see for the currency itself are USD, EUR and GBP.. I was hoping for an AUD/Australian Dollars option... it might already be there, but the UI doesn't let me scroll
Merged in a post:
More currency options
Hi! Loving ClickUp so far. I'm based in Shanghai, China, and bill most of my clients in Chinese RMB. I noticed there are only 3 options for currency (USD, EUR, and one other). Would it be possible to add more currencies?
Thanks!
Tucker
Merged in a post:
Custom field: Two way REFERENCE other tasks (not the same as task dependencies)
it is extremely helpful to be able to link two list items (tasks) to each other without making one the dependency of the other. This is an increasingly popular feature in content, contact and task management in which a link from one item is visible in the other, and vice versa. Its called Two Way Reference.
For example, this is useful to relate two contacts with each other (I know John from Eve, or Ann is the mother of Jimmy, or this tasks relates to another) and the link can be made visible in the custom task column.
The functionality is as follows: When custom field Reference is added, there can be a autocomplete search box that allows to find any task (list item) anywhere, and when selecting one, it will make a link visible in both the current and the target item.
A more advanced way of implementing this is the creation of relationships, which means instead of just two way referende links, the relationship is a separate list item which connects two other list items and can hold the information of the relation such as a title, details etc.
As project manager and webdesigner the Reference as well as the Relation features are the most powerful and popular tools I implement for content and contact management
Merged in a post:
CUSTOM FIELDS- Calculate fields using formulas and more
Hi guis, thank you for great job until now... i would like to know when you going to add a CALCULATE FIELDS? Of course on all devices.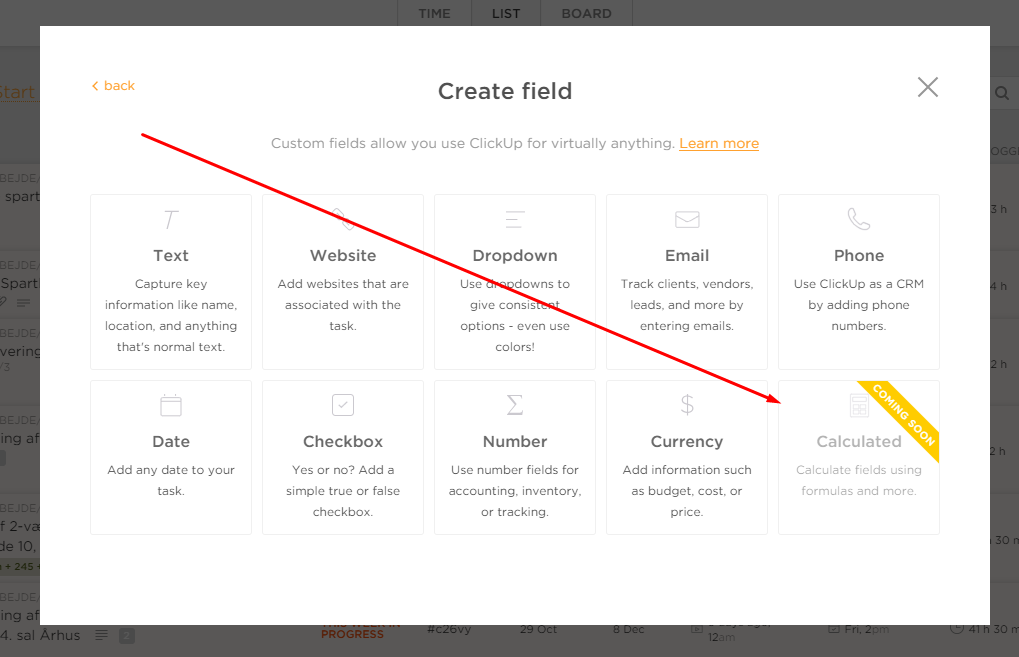 Merged in a post:
formula fields
calculate values based on formulas that can include other field values from the same "task" or "project" etc
Merged in a post:
Custom Fields: Currencies
F
Support for Australian Dollar
Merged in a post:
Column days until feature
Would like to have an column feature in where its shows days until task due date.
Merged in a post:
More currencies in currency field
I see there are only USD, EUR and GBP currencies available for currency custom type. Would it be possible to add other currencies?
Merged in a post:
Select Multiple Options From Dropdown
When creating a custom field, please allow us to choose multiple options from the "Dropdown" feature.
Merged in a post:
User Rate Field
A field that can be applied to a user based on day rate or hourly rate, with an option to hide the field, ie. only visible by admin's choice. This could then be used to calculate against other custom fields and report on it.
An associated criteria would enable manual separation of the logged time on tasks, if not applied by the time tracking, thus the total logged time makes up the split per assignee.
Thinking further. Adding the ability to create a custom field at the Project, or Space or List level would allow for a Estimated Budget, an Actual TD and a remaining spend, per person, per space/project/list.
Merged in a post:
Required feilds before ability to save
Make it so a task cannot be saved until specific fields such as due date and owner have been filled in.
Merged in a post:
Hide custom field on card front if no value
If a custom field has been set to show on a card front but no value has been entered (null) then that custom field should be hidden. For custom fields that have been set to show only those that have a selected value should be show. This will avoid situations were valuable space is wasted - see example screenshot.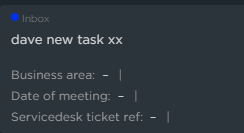 Merged in a post:
Drag and Drop for Dropdown Custom Fields
If you want to adjust the order of your dropdown list in ClickUp you have to delete entries to move them.
It would be nice to just drag and drop the options to reorder, so the data is not compromised.
Merged in a post:
Set default for custom fields
I would like to be able to set the default choice for a 'dropdown' custom field. Currently when activated each item is set to a dash "-". But would like to be able to set a default so that at creation, each field is set to a particular choice by default.
This could be extended to all custom field by allowing a default value.
Merged in a post:
Custom Field - User Names
Current custom field types are fantastic. Adding 'user field' as a custom field option would be helpful, similar how assignees are listed
Merged in a post:
Option for non-clickable phone numbers
Clickable phone numbers are a speedbump if we don't VOIP call and click a phone #, e.g. to copy it. Please consider making it an optional feature we can disable in our profile.
Merged in a post:
Custom field dates in Time
If user adds a custom date field to task, user should be able to see that date in Time view.
Merged in a post:
Sum of $ Currency Custom Fields
Would like to see currency sum of all list items within each "Status" and total within a "Space".
Merged in a post:
Custom fields - select multiple (like labels)
Can we add a custom field that allows selection of multiple from a list? Similar to the way labels work, but these will limited to the project scope only instead of the whole space.
In our scenario, our project is divided into 5 constituent components. I have set up a custom field to assign the selected task to a particular component, but sometimes it might be relevant to more than one component so in these cases I'd like to choose multiple options from the list.
Merged in a post:
Custom Field: Filtering
Add feature whenever you filter Custom fields, you have the option filter as much just like Tags and just choose Match Any or Match All
Merged in a post:
Extra Fields Searchable
Allow the new extra fields to be searchable from the search box.
marked this post as
planned
Merged in a post:
Custom Field for Location
An address field that opens the location in google maps when clicked
Merged in a post:
Bulk edit for custom fields
With the new custom fields feature it would be helpful to have the possibility to modify the custom fields in bulk mode (similar to edit tag).
Thanks
Merged in a post:
Custom Field: Website Links
Would it be possible that whenever anyone clicks the link, it will not automatically enter into the Edit mode in order for the other links to be clickable as well. It's a bit of a hassle to click the arrow up and down at the right side in order to change it back to the clickable mode. Please see video: http://nimb.ws/W9jLJt
Merged in a post:
Customize alignment of custom text field
[From support] Ability to change center aligned text to left of right for text-custom-fields in list view
Merged in a post:
Any currency in Custom Fields
Don't get why custom fields currencies are confined to three options only. It could be a editable field in which you type the symbol and name of it.
Merged in a post:
Custom Field Type: File Upload
While ClickUp allows for file uploads, I'd like the custom field type option for file uploads. I have tasks that require the same types of files and this would allow me to see which tasks have these fields populated and which do not.
Merged in a post:
Custom fields for Projects and Lists (not task)
Add custom fields for Projects and Lists to add information about client, budgets overall etc
Merged in a post:
Concise column width
I have several custom columns, but they are all very wide. E.g. a checkbox column can be as narrow as possible, but takes up 2 times the space at this moment.
Merged in a post:
Add Russian Rubles to custom Currency field
Please, add Russian Rubles to custom Currency field. Thanks!)