Change default (required) statuses
in progress
Merged in a post:
New Feature: Rename or Reorganise default task status
It is great being able to add new task status, but it is a pity to force to keep the 2 mandatory status (open and closed), specially because they must appear in the Kanban view and cannot be renamed or rearranged.
It makes no sense to have an OPEN status before a BLACKLOG or To-Do status.
It would be very convenient to either of these options:
A) Rename the default status so it makes more sense for the project.
B) Be able to at least change the default status location/order in the status list.
Merged in a post:
Ability to add color of OPEN & CLOSED statuses
OPEN's status default color is light gray which is hard to read and CLOSED's status default color is green which doesn't make sense for us. We would like to have the ability to change the colors on these two defaults. OR Change OPEN to green and CLOSED to light gray.
Merged in a post:
Custom statuses renaming
It'd be cool if i can change in custom project statuses "Open" and "Closed" names. Also currently there's no change to change theirs color.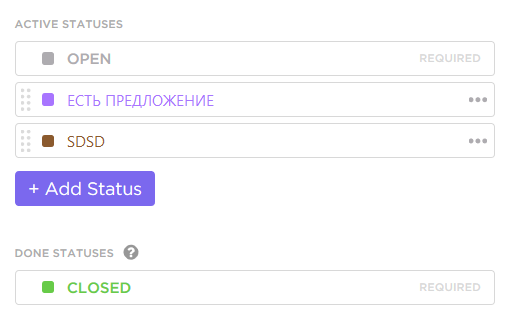 Merged in a post:
Modify default colors of Open and Closed Status
Please can you provide the ability to modify the color the of the Open and Closed Statuses. Green is more useful to me elsewhere than Closed
Merged in a post:
Changed colour of Closed to something other than green
It seems that we are forced to have the "Closed" status be green in colour.
It would be great to be able to make it whatever colour we want.
Although I can understand using green, as it can often mean "good", as in, "finished", it could also mean "go", as in, "do this". So if you have a task such as "in progress", you may well want to set that as green.
marked this post as
in progress
Merged in a post:
Change Open and closed names
Would like to use "open" and "Closed: statuses but would like to rename them "Not Started" and "Completed" without creating additional statuses.
Merged in a post:
Task Status Colors
I understand why open and closed tasks are required and cant be changed but the fact that you can't change the colors is a bit frustrating. The current colors seem backwards, with open tasks grayed out and closed tasks being green. Honestly if these were even just reversed it'd be tons better, but having the ability to change the required statuses colors would be amazing!
Merged in a post:
allow "Open" and "Closed" to be custom
It would be nice to change the color/label for the open and closed statuses.
Merged in a post:
Custom Statuses
Hi,
Just a thought. For custom statuses, even though "open" and "closed" are required, it would be nice if you could still rename them. My company is working on your platform and the team speaks spanish. Monday allows users to do this.
Merged in a post:
Add an "incomplete" status that will archive just as "closed" tasks do
S
Is there a way to have a status for a task that's incomplete but has the characteristics of a closed task for reporting / analytics purposes? E.g., if an employee had to complete a weekly worksheet but missed it one week. Marking it closed would mess up the reporting, but having an "incomplete" custom status as far as I can tell would just let it sit around in lists forever until deleted.
Merged in a post:
Change the Color of Closed
I wish it were possible to change the color of the "Closed" status. I don't like that the green is basically the same as the "Open" status.
Merged in a post:
Custom initial and terminal statuses
I'm familiar with custom statuses, but I think it'd be neat if we could set different names for the "OPEN" and "CLOSED" statuses. For example, "UNTOUCHED" instead of "OPEN" or "COMPLETED" instead of "CLOSED". While I can understand how that sounds like a useless feature, it makes sense for projects where tasks are not necessarily "open" and "closed".
Merged in a post:
Change name of "Closed" in custom statuses
Ability to change the name (and color) of "Closed". ("Completed" and not-green makes more sense for my lists.)
Merged in a post:
Statutory "Open & "Closed" No Need
You are adding so many fantastic features to ClickUp but insisting we have to use the column "open" & "Closed" without even the option to change the titles prevents too many uses of the tool...sorry not for me
Merged in a post:
Alternative to closed status
One of the considerations Zeb mentioned at https://feedback.clickup.com/feature-requests/p/rename-open-close-statuses was changing the "Open" and "Closed" statuses to "To do" and "Complete." One problem is that sometimes I will abandon a task but want to keep the record of what transpired, so I mark it closed and add a comment saying that it was abandoned, not completed. "Closed" still makes sense but "Completed" doesn't.
Would it be possible to add a way to "remove" a task while keeping its record? Perhaps an alternative "final" status that is mutually exclusive to closed/complete?
Merged in a post:
Ability to rename OPEN status and change color
Merged in a post:
"canceled" as alt. status for closed Tasks
I have created a custom status of "Canceled" for Tasks that I'd like to close, while acknowledging that it was not completed.
It would be helpful if I could create "Canceled" as a status that would act similar to "Closed", in that it would be removed from the Calendar view, List, etc.
I'm also open to other suggestions from the community for how to track this type of Task.
Thanks for any ideas!
marked this post as
planned
Merged in a post:
customizing default list templates
would be cool if I could customize these default "Open" and "Closed" colums