Allow subtasks to show without sorting or filtering
in progress
Right now the "show subtasks" toggle will only include subtasks in the list view if you're sorting or filtering. I would like to be able to show subtasks when I turn on toggle *without* sorting or filtering.
Merged in a post:
Show all Subtasks
Toggle the visibility of all subtasks in the current project/list.
Merged in a post:
Show subtasks in List view.
I am all for cleanliness of the interface, but it would be great to have the option to show subtasks underneath their parent tasks in the List view, preferably indented or using some other manner to show their dependency.
marked this post as
in progress
Merged in a post:
Subtask filtering and displaying
I mentioned another request where I feel subtasks aren't properly highlighted. However, it would also be nice if they could be formatted the same as regular tasks. For example, a colleague and myself found it weird that the subtask items (such as due date, priority, assignee, etc.) aren't displayed the same as regular tasks. We feel as if they should show up in the same column as the regular tasks so we don't need to look somewhere else to identify the status. Additionally, if a subtask is provided a due date, it would be great if this could show up OUTSIDE the actual task (when sorting by due date) so we know the subtask is due. Right now, it kind of "hides" beneath the main task and you actually have to click the main task to find it (unless I'm doing something incorrectly).
Merged in a post:
Display subtasks differently
I believe this has been mentioned in a similar request (albeit different). I think subtasks should look different when shown. Right now they just appear as a small list when, in reality, it would be great if maybe they showed up as a regular task (encompassed in a box like the other tasks) but maybe with a different color to differentiate between regular tasks and subtasks?
Merged in a post:
Option where a subtask doesn't automatically hide and move down
Some of my colleagues would prefer that a subtask is just crushed out rather than hiding it automatically and move it down. It creates a mistake sometimes where they didn't see that the subtask was actually hidden. Sometimes there is a certain order of subtasks that we want to follow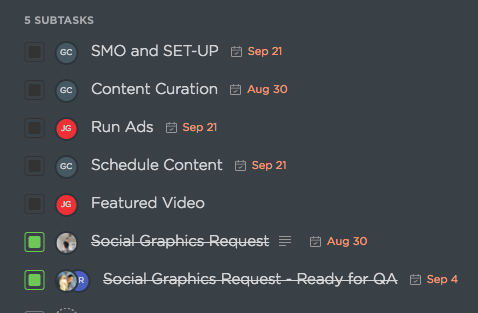 Merged in a post:
Let subtasks function the same as regular tasks
The use of the sub- versus the regular tasks makes me not want to use the subtasks at all, but I do need them or my lists will be complete chaos. I am really confused why the subtasks are not just exactly like tasks, but within tasks. And I just want to be able to see them all, all the time. Also when I try to move regular tasks to subtasks the order reverses completely.
Merged in a post:
View All List view
View all doesn't display subtasks unless some kind of filter applied. When filter applied, subtasks are separate from the task they're associated with. Don't even understand the logic of that. There should be a way to show EVERYTHING in a space in list view in the correct hierarchy. From there, allow list to be filtered down.
Merged in a post:
Have option to have all subtasks visible in Box, List, or Board View
Hi there,
I generally enjoy organizing my tasks into multiple subtasks, and it would be a breeze if there was a button to be able to show all subtasks right away like in the image attached.
I could do the same thing by clicking all the icons that tell me that I have subtasks under that task, but that is slightly more labour-intensive, and is only temporary. As soon as I switch to a different view, or reopen Clickup, the subtasks become little icons again.
I think there should be a little switch that says "view all subtasks" or something along those lines.
Thank you for making Clickup so amazing!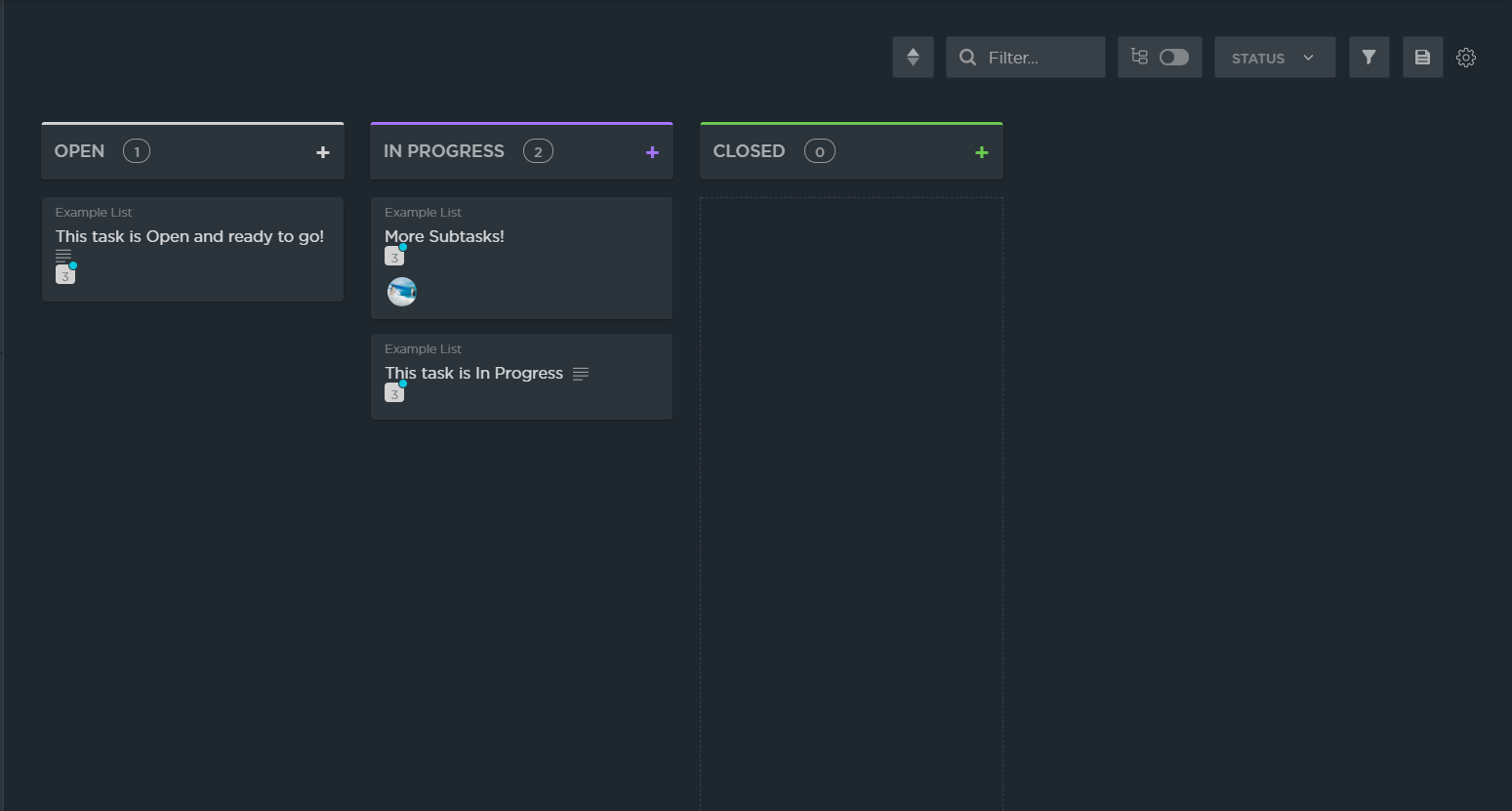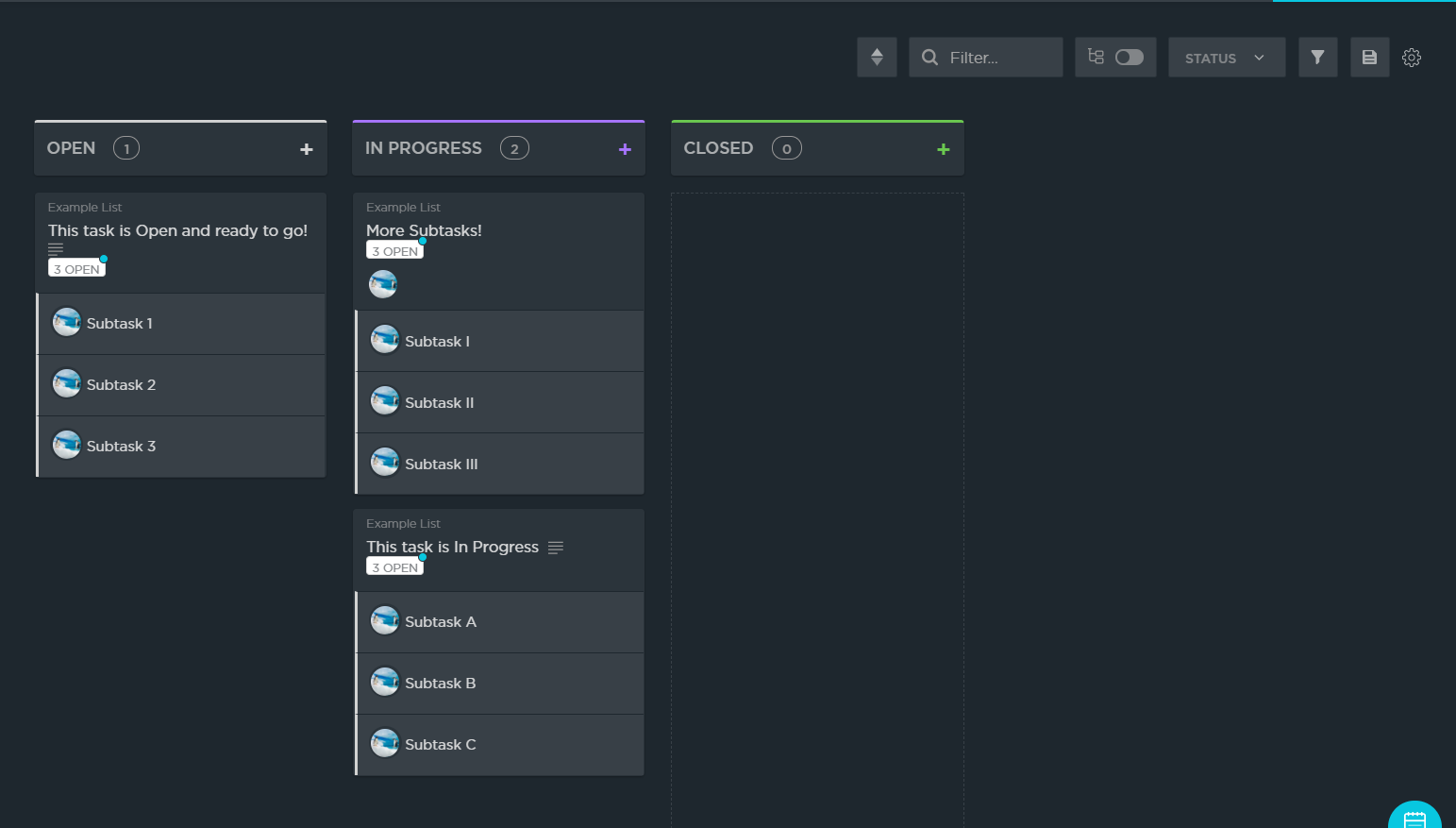 Merged in a post:
button: expand all subtasks of all tasks (in all views)
Merged in a post:
Have view where all sub-tasks are visible/expanding all sub-tasks
It would be great if there was a toggle that expanded the entire view to show the tasks, but also all of the subtasks. Right now they're tucked inside of a task, and to view them you have to click on the small indicator or click into the task, but I want to be able to see all of my subtasks without needing to click every single indicator to expand the subtasks.
Thanks!
Merged in a post:
Board View - unfold all subtasks with one click
My team has settled into using tasks and subtasks on our ClickUp boards. We may have 20 tasks on the board, and if we want to know the next steps (subtasks) for each of the 20 tasks, then we need to click the small boxes under each task. It's tedious, takes a lot of time, and it's easy to reset it by accident when you switch views.
What I would like is a possibility to unfold all the subtasks under each task's card, so that my board shows both the tasks and the next steps (subtasks) for everything we're working right now. That'd be absolute perfection for me.
marked this post as
planned