Create Subtask Hover Dropdown Misleading
planned
The recently added "toggle" that appears on hover alongside a task that acts to create a Subtask is extremely misleading.
Our team has already commented that it makes them think there are subtasks that are not appearing. It doesn't make sense that a dropdown toggle like this would be used as a UI element to CREATE a new Subtask instead of view existing subtasks.
The + already serves this purpose in a way that makes UX sense. The toggle simply adds confusion. It'd be helpful if ClickUp either changed the view toggle to a + instead of a rotating triangle (i.e. Make the "Create" button a "Create" button and NOT a VIEW toggle)and remove the other location, or remove this toggle entirely.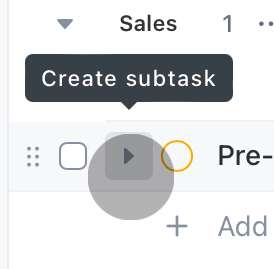 Merged in a post:
Option to toggle off the relocated 'create new subtask' icon
When hovering over a task name in list view now, it's harder to tell if that task has subtasks or not because the little indicator icon on the left (much clearer and easier to find than the little icon after the random-length task name) turns into a 'create new subtask' icon when this used to just show that subtasks exist. Now I keep clicking on it to expand subtasks but it creates a task and I have to click out of it to cancel again. Can't imagine a scenario when this would be helpful. I too love that clickup is constantly making changes and updating but I'm struggling to find anything in 3.0 that's an improvement. It feels like we're going backwards.